The U.S. Department of Transportation recently announced that U.S. fatalities due to drunk driving fell to a record low number in 2009, declining by 7.4% from 2008, with a 19% decrease since 2000. This represents the lowest number since 1950. More
Drug courts were developed in the 1980's in an effort to stop the abuse of alcohol and other drugs, and to reduce the criminal activity that typically accompanies these behaviors. More
Hold Drunk Drivers Responsible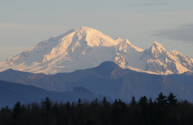 The City of Bellingham in Washington State is the last large city heading north on Interstate 5 before reaching the Canadian border 25 miles away. Bellingham is the county seat of Whatcom County and is home to more than half of the county residents. It is the 12th largest city in Washington, with a 2008 estimated population of 78,905 (U.S. Census).
While most of the City of Bellingham goes from sea level to a few rippling hills in the 500-800 foot category, 31 miles to the southeast the snow covered caps of local volcano Mount Baker rise to just over two miles high at the summit. Mount Baker is a constant and majestic background scene for the Bellingham area and is a stark backdrop to the low wetlands that are prominent throughout Whatcom County.
Bellingham has many beautiful attractions, but unique to its center city location is the Whatcom Falls Park. This 240-acre public park runs directly through the heart of the City of Bellingham. It is a central hub of outdoor activity that connects several strikingly different neighborhoods. While encompassing the Whatcom Creek gorge, it has four sets of waterfalls and several miles of walking trails. Popular activities during warmer weather include swimming, fishing, and strolling along the numerous walking trails and wooded paths.
Bellingham is a marine port city, but its origins were first in timber and milling and then in mining with gold and coal. It took the consolidation of surrounding towns and a dedicated interest to make Bellingham a Pacific Northwest metropolis in the 1890's. It was from this headstrong effort that the seaport economy grew during the early parts of the 20th Century.
Bellingham is served by a mayor and council form of government. The Bellingham Municipal Court has jurisdiction over violations of the Bellingham Municipal Code. This includes almost all non-felony criminal matters and a limited number of city specific felony charges. Family Court matters as well as civil litigation such as personal injury claims, vehicle accidents, wrongful death, and negligence and malpractice claims are also handled at the municipal level when committed in the City of Bellingham.
Economic, geographic even metrological characteristics all contribute to the word that is used often when describing the Bellingham area: diversity. It is no wonder then, that diversity is the core tenet of Western Washington University in Bellingham. The schools of Law, Marine Science, Education and Center for International Studies fully demonstrate that belief and reflect on the entire community's commitment to diverse, high quality and progressive education.
While almost all drinking and driving violations or DUI (Driving Under the Influence of Alcohol or other drugs) and DWI (Driving While Intoxicated) prosecutions are handled at the municipal level, adding a death by auto, or causing serious personal injury to others, could result in felony charges that would be handled by the Whatcom County Court.