The U.S. Department of Transportation recently announced that U.S. fatalities due to drunk driving fell to a record low number in 2009, declining by 7.4% from 2008, with a 19% decrease since 2000. This represents the lowest number since 1950. More
Drug courts were developed in the 1980's in an effort to stop the abuse of alcohol and other drugs, and to reduce the criminal activity that typically accompanies these behaviors. More
Hold Drunk Drivers Responsible
There may soon be a new weapon to fight drinking and driving in King County. Or rather, an old weapon may be available once again. The King County Prosecuting Attorney's Office recently filed a motion in District Court to once again allow results from alcohol breath tests as evidence at trial, reversing the King County District Court's ruling in January 2008 that blood alcohol concentration (BAC) results from breath tests were inadmissible at trial in most DUI cases because of questions involving the maintenance and calibration of instruments at the Washington State Toxicology Laboratory.
To solve these issues with the maintenance of equipment at the toxicology lab, the State of Washington has hired Dr. Fiona Couper to serve as the new Toxicologist responsible for managing the lab. Under her leadership, the lab has now been accredited by the International Organization for Standardization. This accreditation should remove any questions or allegations of irregularities in the BAC results coming from the lab.
This motion is the first legal step towards expanding the ability of the Prosecuting Attorney's Office to successfully prosecute DUI and DWI cases. Without this lab evidence, the county had to rely on evidence of bad driving, poor performance on field sobriety tests, and other signs of driver impairment. If and when this motion becomes law, prosecuting attorneys can bring to trial one of the most powerful form of evidence – scientific proof of a person's BAC results.
We will provide updates on this motion as it becomes available.
Sponsored by: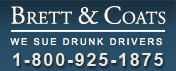 Our Attorneys
Our Results
Can we help?