The U.S. Department of Transportation recently announced that U.S. fatalities due to drunk driving fell to a record low number in 2009, declining by 7.4% from 2008, with a 19% decrease since 2000. This represents the lowest number since 1950. More
Drug courts were developed in the 1980's in an effort to stop the abuse of alcohol and other drugs, and to reduce the criminal activity that typically accompanies these behaviors. More
Hold Drunk Drivers Responsible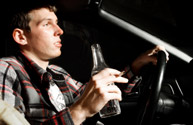 Drunk drivers in Washington State should be held responsible for the carnage they cause. Unfortunately, many of them do not carry liability insurance, or carry too little insurance to pay for the injuries and damages they are responsible for. Be careful; early settlement of a claim against a drunk driver can waive the right to obtain additional compensation from others involved. Washington law allows the injured victim to also recover from a number of alternative sources described below.
We carefully examine all avenues for victim compensation for clients in Seattle, Tacoma, Everett, Bellingham, and throughout Washington State. Some victims carry their own Underinsured Motorist Protection (UIM) policies. Again, be careful, as these recoveries can be waived unless correct procedures are followed. And the inquiry should not stop there. A systematic evaluation of all possible claims should be undertaken before any settlement effort is made.
Drunk drivers tend to be irresponsible in many aspects of their life. Their irresponsibility thus injures their victims twice, once when they cause an accident, and again when they have little or no insurance to help pay for the damages they cause. Consequently, we turn to those who enable drunk drivers to help pay for the damages suffered by the victims: the tavern which over served the drunk, the party host who served the minor, the parole officer who did not enforce terms of parole, or the police officer who released the driver while he was still intoxicated. Everyone who is responsible for the carnage of drunk driving must be held responsible.
For an example of a case where Brett & Coats represented a victim of a drunk driver, see our Case Report.
If you or a loved one has been seriously injured in an alcohol or drug-related traffic accident in Seattle, Tacoma, Everett, Bellingham, or anywhere in Washington State, call the experienced attorneys at Brett & Coats today. We want bars and taverns to pay for the injuries and devastation that they cause by sending intoxicated drivers onto our highways. Only by making bars and taverns accountable for their actions will future victims be spared.
Call the attorneys at Brett & Coats, PLLC today at 1-800-925-1875, 360-714-0900, or contact us via our website at online form. Brett & Coats represents drunk driving victims throughout the state of Washington, including the cities of Seattle, Tacoma, Everett and Bellingham, WA.